Make sure you check out the
first part
of this journal!
Saturday
After the great reception we got for our Rurouni Kenshin cosplay, we were even more excited to show off our new cosplay! Who figured it out from our
preview shots
?
Avatar Fire Nation!!

as Ty Lee

as Azula

as Mai

as Zuko
Photo taken by lovelylankie.tumblr.com/
But before that... we had to actually wake up. Be lucky there's no audio to go with this photo. Lindy singing us awake is... lovely. Really. Lisa's face says it all.
Once again, destroying the room as we get ready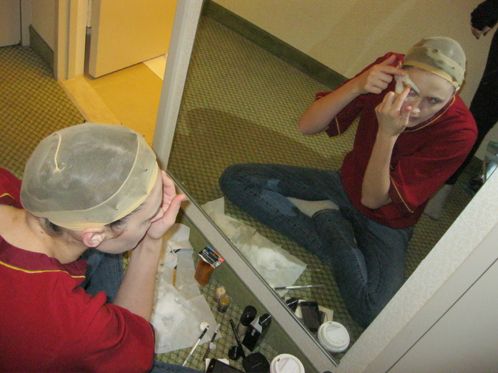 Lisa definitely had the most work to do to get ready for this cosplay. But thankfully her outfit is a quick fit.
For those of you who are curious what she used, it's a mixture of tissue and liquid latex.
And a bit of heat to speed up the drying process.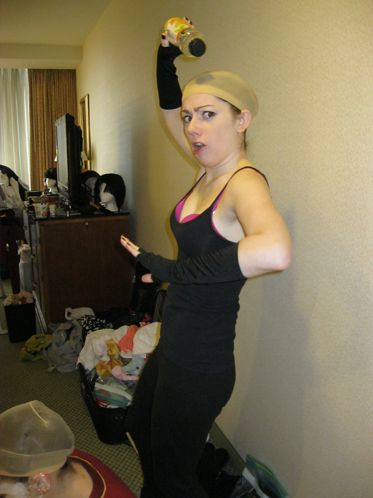 While Lisa slaved away, Lindy
goofed off
practiced posing.
Okay who are we kidding, they were goofing off.
Then Lindy took a power nap lmao
Brother and sister almost ready!
Hello Youmacon!!
Heading to the COBO to do some more shopping!
We spent some more time in the dealers room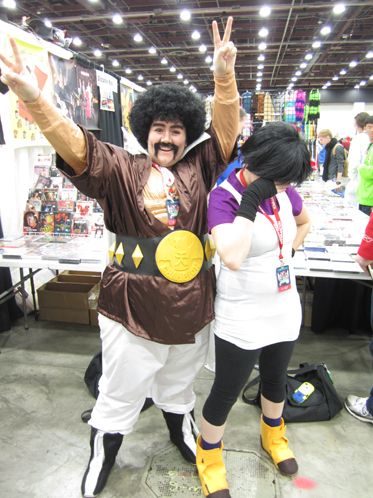 And we ran into Hercule and Videl, who were amazingly in character!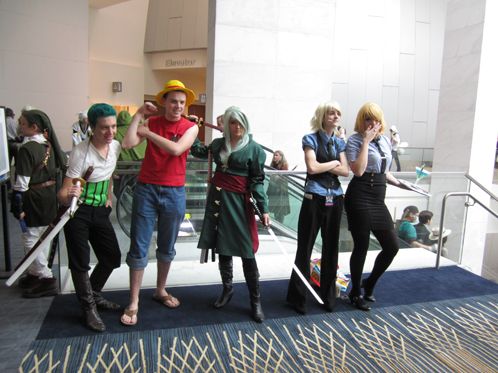 We also met up with friends
Alyssa
and
Mary
(who both really need a dA account to show off your awesome cosplays!!), cosplaying as fem!Zoro and fem!Sanji. They even found some more One Piece cosplayers to pose with x)
You guys looked amazing!

So glad you could make it!

Later that night, we met up with Dana again and sat in on Chuck Huber's panel, which was incredibly funny.
A couple of us are die hard Yu Yu Hakusho fans, so you could say we were pretty excited when Chuck was announced as a guest this year!

Especially Nicole, who's favourite character is Hiei.
But we have to admit, it's a little unnerving hearing Hiei's voice from such an upbeat and happy guy! LOL
A couple clips from the panel:
Lucky girl! haha

"Swing on the swings" LOLLL Poor John x'D
After the panel, we went to the supposed signing area in the dealers room. Little did we know that they moved the autographs. Although the organization for Youmacon was infinitely better than last year, we never said it was perfect x'D
So before we figured out the change, we aimlessly posed together

You're so fab, Zuzu.
Agni kai!!
Here are a couple more group pictures people took of us during the day

Photo found on facebook
Photo taken by sacae-lyndis.tumblr.com/
Photo found on tumblr
Back to us waiting around in the wrong area... finally we asked someone where the autographs were being held and were directed to a different area of the COBO centre. We ended up waiting for over two hours to finally see Chuck. And it was COLD. The area that the VAs were in was under construction, so a lot of the walls and doorways weren't sealed. And it was November. By the end, we were just happy to have the autograph and find somewhere warm to thaw out.
Before we started our late dinner at Volt, we un-cosplayed up in our room. Kigurumis are seriously the best invention for cosplayers haha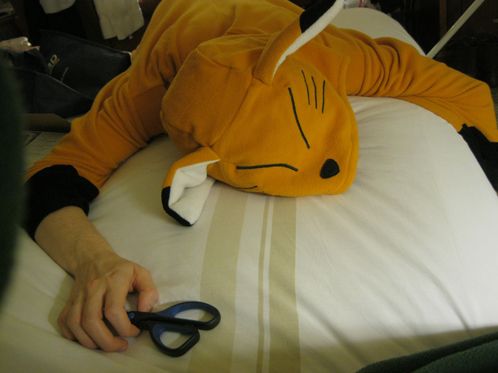 This picture is just so unexplainable LOL
Wondering how Lisa got that scar off? We happened to film the whole thing! LOL What are friends for if not to
laugh at each other's pain
rip off a latex scar for each other??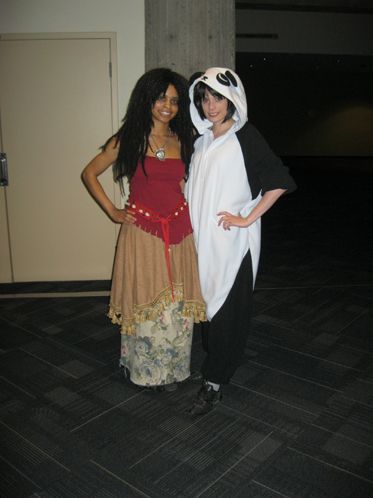 And one final picture of the day! Dana as Calypso from Pirates of the Caribbean! Amazing! She looked just like her!! D:
Sunday
We woke up Sunday morning feeling so rested and refreshed... only to realize that our alarm hadn't gone off!! D: We have never gotten ready as fast as we did that morning LOL
After a hectic couple of hours of running around packing and changing, we're finally ready to check out. We've never felt so awake and rested on a Sunday before! haha x'D
And we should just say that this picture doesn't even show half our luggage. It was an interesting walk to the car, that's for sure.
Checked out and with the car packed, we went back to the COBO for the final time.
This happened along the way

Heading to the train!
What is Zuko even doing here... haha
And... we just missed the train. That's pretty much the story of our lives lol So we took some photos instead

Good morning, Charlie!
The awkward couple x'D
And then this happened.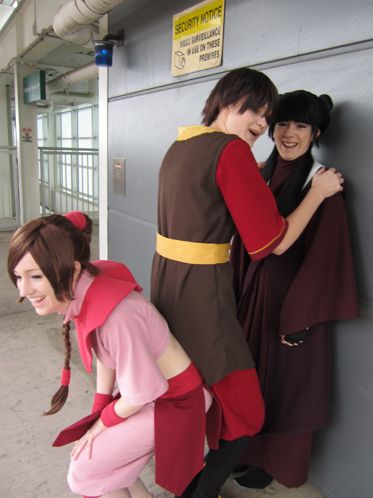 How this photo was actually taken haha Our behind-the-scenes are so... inventive.
Here's a good photo of the dealers room on Sunday. Still pretty full of shoppers!
Yogi from Karneval! The only Karneval cosplayer we saw all weekend D:
We kept seeing this cosplayer around and always commented on how beautiful her outfit was. Finally on Sunday, we stopped her for a picture. You can't see in this picture, but the back of her outfit is just as gorgeous as the front.
Met up with Alyssa and Mary again! This time in different cosplays

Hopefully your feet weren't too sore after those shoes, Alyssa!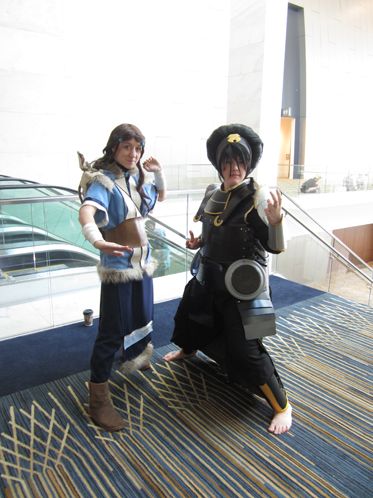 We also met these two in the COBO.
Pinkiebel
is older Katara and
MamaToph
is older Toph. These two were seriously the coolest. And they travelled to the con from Canada, which makes them even cooler haha

Badass back lit picture of all of us!
It was so awesome meeting you two! Thanks for posing with us! Hopefully we run into each other again at another con!

Back in the RenCen we got a picture of Rin from Blue Exorcist.
We also took this photo with an adorable young Zuko.
Meanwhile Ty Lee and Azula posed for a photo together.
Photo found on facebook.
We wrapped up the day with a meal in the food court with Alyssa and Mary. It was nice to actually have a chance to sit and chill with those two since we don't get to see them very often <3 Hope you guys come to AN in May again!
Following that, we decided that we wanted to use what little sunlight we had left to grab some photos of our costumes.
While deciding what place would work best for some shots, we relaxed in the RenCen lounge.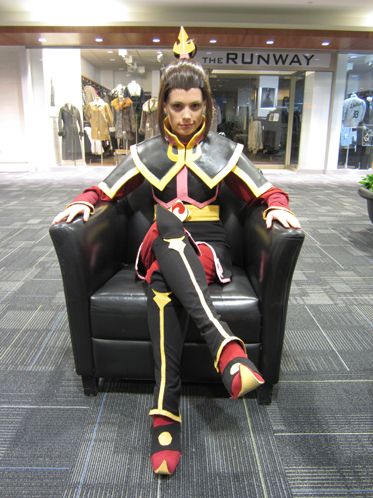 "External flashes look a lot like tasers... Zuko come here!" LOL
Unfortunately we ran out of natural light, so we struggled with our photos

After awhile, we gave up with photos, determined to have a shoot somewhere later (and warmer).
Time to revel in Lisa's pain again! Azula especially seems to be enjoying Zuzu's agony >D
After effectively removing Lisa's scar, and changing into something a bit less conspicuous in order to cross the border, we headed back to Canada

Our first stop? Tim Hortons. We are so stereotypical lmao